Home
ETBE Retail, 2015 G-FAIR KOREA Launched first in Korea, UKIUKI Lamb and UKIUKI Tuna (15.11.03)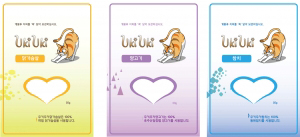 ETBE Retail (CEO: Ham Seung-Jin), a cat-specialized company, will launch Korea's first UKIUKI lamb and UKIUKI Tuna through the '2015 G-Fair Korea Excellent Product Exhibition' held in Kintex, Ilsan from 5th to 8th.
Cats are originally carnivorous animals, so they must consume chicken meat stocks, and in developed countries such as Europe and Australia New Zealand, there are many lamb-based cat snacks. However, ETBE Retail is the first Korean manufacturer to produce a lamb for cat snack.
Cats have much higher protein requirements than human. Lambs have a higher amino acid content than cows and pigs, and because they are low in fat and high protein, UKIUKI mutton is a very good product to feed cats.
ETBE is a company that makes UKIUKI lamb made from luxurious Australian lamb, UKIUKI tuna made from Dongwon tuna, UKIUKI chicken made from Harim chicken (chicken breast). ETBE is known as a reliable company by clearly identifying the source of raw materials. UKIUKI is a trustworthy product made by taking into consideration the tendency of consumers who eat cat snacks directly, and it is receiving the unlimited trust of consumers.
"After the launch of UKIUKI Chicken in June, ETBE has received a good response from animal hospitals and customers all over the country." said Ham Seung-Jin. She also said, "Based on the needs of the customers, we have launched the UKIUKI brand of lamb and tuna as a premium concept."
This product can be purchased through ETBE Retail's specialty shopping mall (www.ecatshop.co.kr).
Introduction to ETBE Retail
ETBE Retail operates the cat food shop (www.ecatshop.co.kr) in 2014. It has developed, produced, and manufactured UKIUKI, a premium cat-only snack made by itself. The main client is a veterinary hospital, The company has been positioned as ETBE for cats.
---
This press release is issued by the companies and organizations indicated in the source through the press release newsletter. Media and blogs can use this press release for reporting purposes.